HHBulletin - THAI TEAW THAI 2021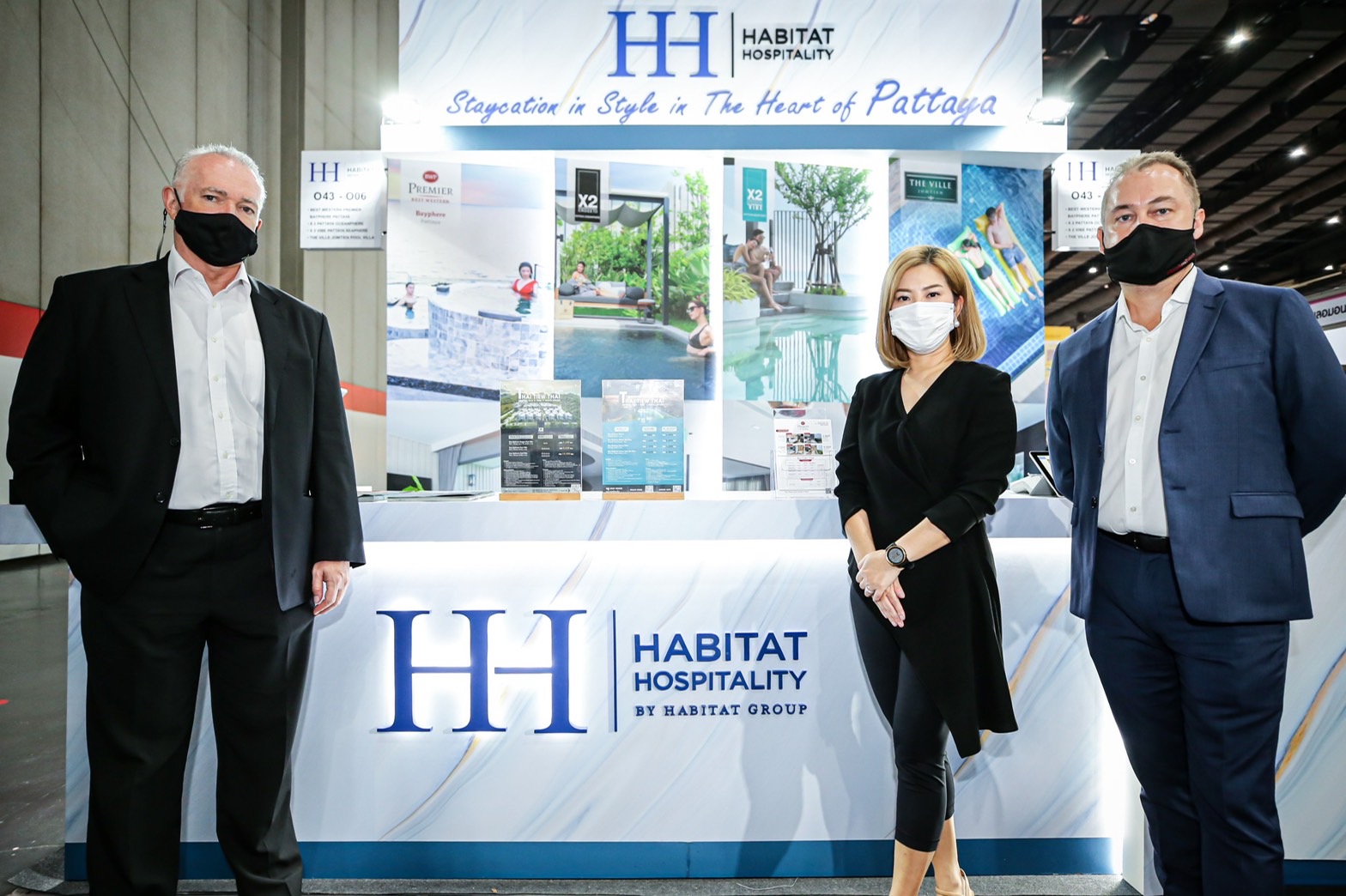 Showcasing luxurious hotels and boutique-style pool villa in Pattaya, Habitat Hospitality has joined the 60TH Thai Teaw Thai to celebrate the reopening of country and greet tourists with the year-end promotion "Ultimate Special Offers".
The package deal featured 4 hotels and resorts located on the prime area of tourist attraction and popular beaches in Pattaya including X2 Pattaya Oceanphere, X2 Vibe Pattaya Seaphere, Best Western Premier Bayphere Pattaya and The Ville Jomtien Pool Villa, with complimentary benefits exclusively at the event.
In addition, Miss Sasivimol Sutthibut, Chief Operating Officer of Habitat Group (center), Peter Lucas, Managing Director of Habitat Hospitality (left), David Jamison, Cluster General Manager (right) together with hotel staffs attended at booth # O43, O06, EH 102 hall at Bitec Bangna during 25th-28th November 2021.
Habitat Hospitality is a subsidiary of Habitat Group, the leader in real property development for boutique and luxury-style investment of hotel and pool villa in Pattaya. Habitat Hospitality fully operates all hotels under the company to provide services that meet 5-star hotel satisfaction.
Together with Habitat Hospitality, the professional team from the mother corporate will be in charge of comprehensive hotel management from; project development of residence and hotel, hotel business' budget control and finance, hotel pre opening, operating hotels, sales, marketing to public relations, to reach highest efficiency.
This ensures that every investment, clients will be able to receive great in return, investors will achieve what's worth every value spent, as well as the hotel will give the memorable stay experience to visitors. As our goal at Habitat Hospitality is to be the leader in hotel business who never lets the time pass without growing and doing better.